08 Jan 2013
Best iPhone 5 Apps Development Services from India by Arth I-Soft
Every moving day, iPhone application development is hitting new heights. The reputation of this gadget presented by Apple is due to the convenience that iPhone apps provide the way of life of its user. With various features, iPhone apps not only just help them but also live a structured life as well as support them amuse themselves despite the stressful way of life. The boost in the need for apps has produced best possibilities for iPhone application programmer to show their innovative skills. Arth I-Soft is a leading outsource iPhone development company that offer iPhone application development solution to its customers throughout the world.
Arth I-Soft based in Ahmedabad, India offers iPhone 5 application development services at reasonable cost. We have more than two years of experience in iPhone app development field. As a result of that it created a lot of clients. Arth I-Soft has skilled and vast experience iPhone application developer.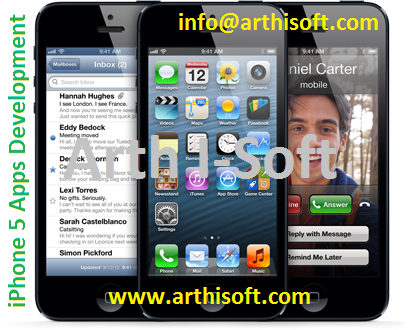 Along with developing iPhone application we also offer following services.
Arth I-Soft has perfected itself with best experience to develop unique and eye catching iPhone apps. The team of iPhone application developer at Arth I-Soft has offer custom iPhone application development for their clients throughout the world. Arth I-Soft also assists in providing customer's selected application from other Smartphone gadgets to the apple company iPhone 5 and iOS6.
Arth I-Soft has developed iPhone application in the following categories.
Business Application
Entertainment Application
Education Application
Books Application
Games Application
Life Style Application
Utilities Application
Medical Application
Social Networking Application
News Application
Health/Fitness Application
Travel Application
Music Application
Sports Application
Hire iPhone application to develop best iPhone apps from us on basic needs. For more detail visit: http://www.arthisoft.com/hire-dedicated-model/