16 Jul 2013
iPad Application Development – Develop Interactive Apps For Your Business
iPad is a third-generation gadget from Apple Inc that contains superb applications that take you one step forward than other gadgets in recent technology age. Apple iPad comes with several apps with awesome features exclusively engineered and developed for some basic and specific applications with the best performance. Everyone wishes to have it for their personal and business work. It has filled a gap between a smartphone and pc. It comes with the features and abilities of smartphone and pc both. Many iPad application development companies are offering iPhone applications to iPad applications integration service. That means, almost all iPhone apps can run on Apple iPad, but it is good to design and develop new and particular application to get all the benefits of iPad's features so that you can get a great user experience.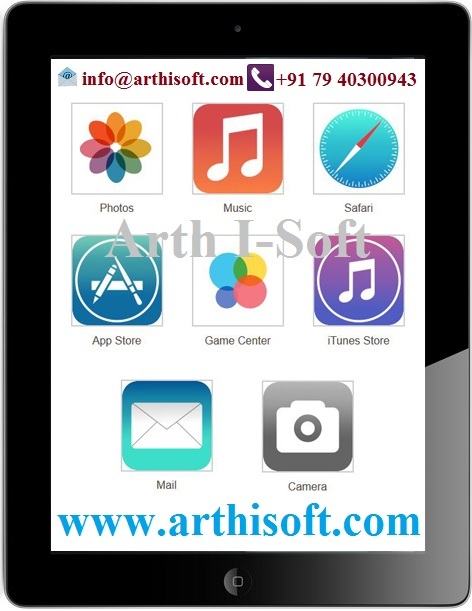 A great demand this gadget tell us the story of its reputation and success. Different people are using it in different ways as per their desire and specs. Now days, apps are used more in business or enterprise to decrease the development cost and specifically for saving time. Different organizations from different areas like finance, banking, insurance, health, travel and travel, real estate, govt and public service, media, etc. are hiring developers to create applications that help them to meet up with their business needs. iPad apps have become very popular among all different age groups' people. Almost all companies or business owners are looking for the best iPad application development company who can make their application to maintain their clients data securely and increase their business development work.
iPad Application Development for Your Business Growth
iPad app developers should have all the knowledge of iPad's abilities and functions. It is good to create a fresh application rather than transforming iPod or iPhone apps into Apple iPad. Use of application with its awesome functions provides customers great end-user experience. Now days, applications can be developed in some popular categories such as business and fun, finance and money, games, iPad book publishing apps, educational, health care apps, entertainment, traveling, social and media management, GPS monitoring, sports, weather, iPad IP camera monitor app and many other categories on which several apps have been building in the world by professionals and experienced iPad app developers.
Several free or paid applications are available on the App Store to be downloadable. Various companies are doing competition to make and provide a solid app in the marketplace. They are offering applications to the customers to meet up with their increasing requirement.
It is a complete device to achieve your personal as well as company things. iPad application development is very extremely effective and increasing solution for the customers, and for those companies who are extremely curious, and considering that applications can help them a lot. They know the real value of application usage. So, if you are having Apple's iPad, then you can make an inquiry in some best mobile app development companies to know the significance of iPad applications into your business.
No Responses