11 Sep 2013
Google Launch Next Android OS Version 4.4 Named with Kit Kat
The surprising news is that Google declared the coming up version of Android operating system will launch named with Kit Kat rather than Key Lime Pie in respect of Nestle – chocolate bar. This past code numbers and pictures had directed us to believe.
It's never done before that software company co-branding with patisserie brand. Google move forward to join with standard name for its dessert-themed Android OS releases. The other brand was worked with Google, when Android 2.2 was released named with Froyo in 2010. At that time the TCBY (Frozen yogurt chain) congratulated to Google.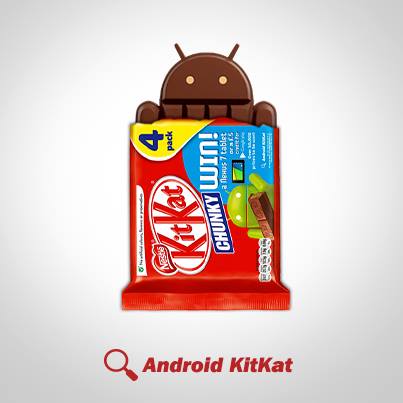 Google is not being successful to making money due to its candy exchanging name as per TCBY's own review. Also cant spending more money. But after get highest position across the world, android mobile OS has not any problem to getting awareness about its services.
But then also many people are surprising that what's about co-branding with nestle Kit Kat?
There isn't any big reason but Google can't think a better name for Android 4.4 kitkat release than the yummy testy chocolate Kit Kat. Just because of it is favorite chocolate among all team of Android. This statement said by Marc Vanlerberghe, Director of Android Marketing. Nestle looking for their digital reputations in market. Endorsement for the Chocolate named branded Mobile Os is strategy to make chocolate brand famous. Hershey shares out 50 million Kit Kat chocolates with the design of Android logo.
Because of this co-branding idea gives Google some free publicity for Android OS. On the packing of Kit Kat bars, mentioned the Android Os name and logo. This chocolate selling allow approximate in 19 countries such as India, U.S, U.K etc…
Jennifer Podhajsky, VP of U.S. chocolate for Hershey Co said in a statement that we are feeling proud and so excited because World's superior Mobile OS creators deal with America's most favorite chocolate brand named Kit Kat. Google's decision to release next Android OS with Kit Kat is bring two big and familiar brands together and it's the great deal among technology world. This deal gives chance to Brand for put up its digital attendance with innovative branding campaign.
The fact is that there isn't any money exchange for this deal, because both have confident on each other. Both parties finish negotiation in January and decide to share equal amount of money and fix the dial at Barcelona after the Mobile World Congress meeting. Its helps to Kit Kat for connect with the consumers in market. Owner of Nestle said that if everything is go well then its open another opportunity for future.
Android is leader in Mobile OS market in all over the world. Every Android user is waiting for the next launch of Android version. They excited about to know its advance features and technology. Another reason for excitement is new version launch with well-known chocolate brand Kit Kat.